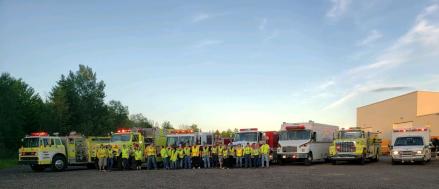 More Information About Long Lake Fire EMS
Located in the Northwoods of Wisconsin, Long Lake Fire EMS is an all-volunteer department serving approximately 450 year-round residents and many more seasonal visitors. With various levels of firefighter and/or EMS training and certifications, our 21 unpaid members are well-qualified to provide professional and timely response to fire, rescue, medical, and hazardous materials emergencies. Long Lake Volunteer Fire Department was founded in 1976 by citizens of Long Lake, Florence County, Wisconsin and is funded by a combination of local tax revenue, state revenue, donations, and grants. While many things have changed over the past 40+ years, one thing remains the same - our commitment and dedication to providing the best possible emergency services response to those who rely on us.
Service Area
Long Lake Fire EMS provides fire and rescue services to the Towns of Long Lake and Popple
River, and emergency medical services (ambulance) to the Town of Long Lake. LLFE also provides mutual aid and MABAS response to the remainder of Florence
and Forest Counties, Wisconsin including Alvin, Fence, Florence, Laona, Tipler, etc., as well as several cities in the Upper Peninsula of Michigan. Our service area covers approximately 120 square miles of wildland, urban, and industrial areas and is located in and adjacent to the Nicolet-Chequamegon National Forest.
Equipment and Response Capabilities
Long Lake Fire EMS operates an Ambulance, Engine, Water Tender, Rescue Truck, Brush Truck, Equipment Van, and UTV. In addition to fire, rescue, medical, and hazardous materials emergency incident response, our Department is equipped with specialized equipment that allows us to respond to incidents such as ice water immersion, lost or injured hunters, and remote terrain rescues.
Long Lake Fire EMS also performs Fire Code Inspections, Home Safety Surveys, Smoke and CO Alarm Installations, and  Public Education events such as fire extinguisher training. For more information on these services, please contact the Department.